About Adelaide Canine Behaviour and Training
We train with your goals in mind, while giving you realistic expectations regarding your dog's progress and results.
Adelaide Canine Behaviour and Training (ACB&T) is a regional based training business that, through proper socialisation and training will assist with:
the training / rehabilitation of existing issues in dogs  and

the prevention of issues arising in dogs
To fully develop the connection with your dog, we believe that you need to know what your dog is trying to tell you. Understanding canine body language and communication is a vital part of 'training dogs and helping people'. By utilising reward based, balanced training we focus on the individual needs and welfare of dogs at all times.
It is important to:
Protect the participants' welfare at all

Use interventions that are custom-tailored for each dog

Design interventions on the basis of a functional assessment of the problem
Dee McLean
Ted Efthymiadis – How to Introduce Your Dog to a Baby;   Dunbar Academy – Growl Class Demonstration for Reactive Dogs;  Studied Cert III in Canine Behaviour and Training through (NDTF);  Grad Cert Career Counselling Elite Athletes;   
Dip Bus, HRM; Adv Cert, Industrial Relations
Head Trainer, Dee McLean, is passionate about animal welfare and the dog – human connection.
Having grown up with dogs and being a volunteer rescue foster care coordinator, Dee decided that formal education would benefit her, the foster carers, and the dogs and clients she worked with.
Dee studied Dog Training and Behaviour with the National Dog Trainers Federation (NDTF) Victoria in 2014. She has continued with an ongoing search for knowledge in areas of training, behaviour modification, and complex skills training Dee strongly believes that learning never stops.
Having 5 dogs of her own, all adopted rescues, she has been able to utilise her skills and knowledge first hand in her day to day life.
Dee always says "no 2 dogs are the same and each dog should be treated as an individual".  She is always there to offer that extra care to her clients, and gets such a thrill to see the look on her clients face when 'the penny drops' and their face lights up.
Formal study allowed Dee to learn new techniques and gain a clearer understanding of canine communication. This knowledge was invaluable in her role of assisting rescue organisations foster carers and adopters in SA, NSW, Vic and WA.
ACB&T currently work directly with several volunteer rescue organisations in South Australia. We also assist new adopters to settle their new dog into their family.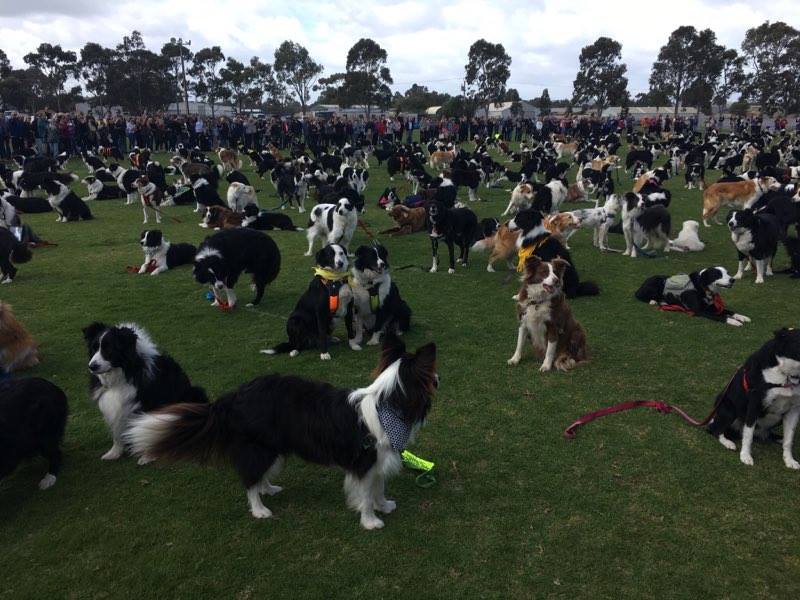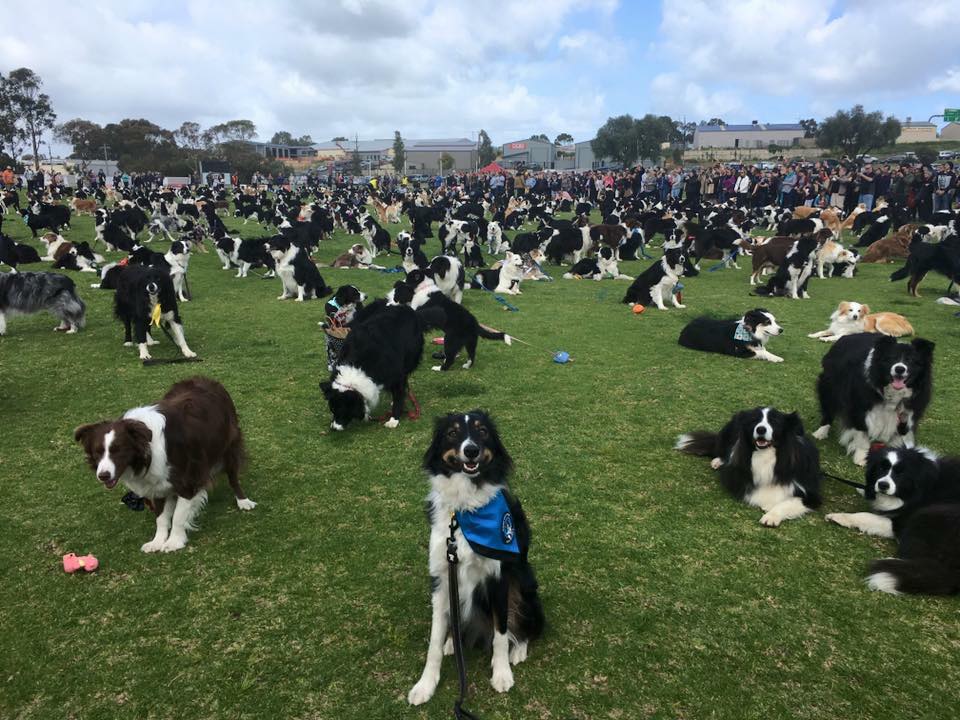 World Record Attempt – 2017
ACB&T were so proud to be involved with the 2017 Unofficial World Record attempt organised by the Border Collie Club of SA.
Head Trainer, Dee McLean was given the role to organise the attending canine trainers to ensure the world record number of dogs, 576 border collies in one place, were not stressed and that their owners stayed calm for the photo shoot.